MEET CHEF RANDALL POTTER
December 5, 2014
Brunswick Forest
Cape Fear National's Chef Randall was not always the culinary aficionado that he is today. Growing up, he did not have any interest in food or cooking, and his family's favorite meals were almost always procured from takeout menus or fast food drive-thrus. He was well in to his adulthood before he learned the cooking skills that he possesses today. "My family will tell you, I've come a long way," says Potter. "About 10 years ago, I was cooking burgers at my daughter's first birthday party, and I almost caught a tree on fire. Flames shot up about four feet from the grill."
Potter began working as a dishwasher at Katy's in Wilmington. There, he worked his way up to cooking on the line and soon got a lot of compliments on the food he made, which led him to seriously consider cooking for a living. He decided to study culinary arts at Cape Fear Community College and left Katy's to go work at PT's Grille and Deluxe in downtown Wilmington. In July 2011, Potter got a job working as a sous chef at The Forest at Cape Fear National at Brunswick Forest and in April 2013, he was promoted to head chef of the restaurant.
"Cooking was just one of those things that took off for me," says Potter. "When I come in here, and I start making something, everything else just goes to the back of my mind, no matter what kind of day I am having." Potter's passion and enthusiasm for cooking is evident in the creative pairings that he makes for the restaurant's monthly Uncorked Wine Dinners. "I have definitely become more interested in food and wine pairings since we started these dinners," Potter says. Aside from pairing, he loves playing around with different flavors. Lately, he has been interested in exploring southern style barbeque and smoked meats.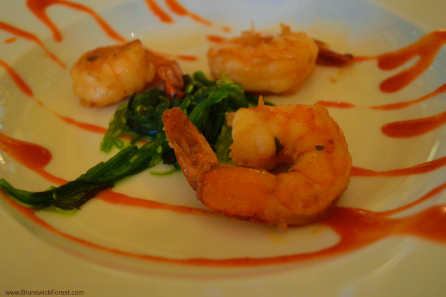 When Potter is home with his family, which includes his wife and 11-year-old daughter, Cierra, his cooking repertoire is a little simpler than what he creates at The Forest. "My wife will eat just about anything," he says, "and my daughter loves to eat egg-in-a-hole."
It is Potter's passion for food and creating a unique dining experience that sets The Forest apart from other clubhouse restaurants. "What we try to do here is create something nice for the neighborhood," Potter says. "We want to make this the best place possible for the homeowners and the community."
To learn more about The Forest, visit the Cape Fear National website.
888.371.2434
www.BrunswickForest.com